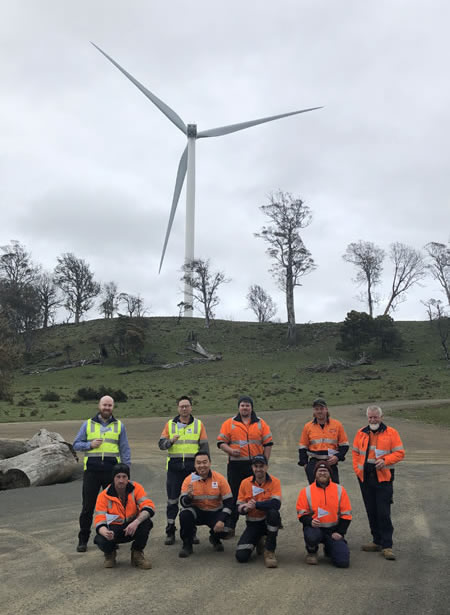 About the Wind Farm
Cattle Hill Wind Farm is located on the eastern shore of Lake Echo in the southern side of the Central Plateau of Tasmania and connects into TasNetwork's transmission network at the adjacent Waddamana Substation.
Construction was completed in 2020 with installation of 48 Goldwind GW140 3MW turbines, each standing at 170 metres in height.
The site is fully operating with a local team of 9 undertaking site management, operation and maintenance work.
The project output of 144MW is equivalent to the consumption of approximately 63,500 Tasmanian homes, increasing the State's renewable energy generation by approximately 5%, providing a significant contribution to the recent achievement of Tasmania's target of becoming fully self-sufficient with renewable energy by 2022.
Cattle Hill wind farm Newsletter
The March 2022 edition of the Cattle Hill wind farm Newsletter is now available. Click here to read.

A Successful Open Day at Cattle Hill Wind Farm
Cattle Hill Wind Farm hosted more than 80 guests at the recent Clean Energy Council (CEC) Open Day. The CEC Open Day is a chance for the Australian public to get up close and personal with renewable energy and this year, saw five projects across four states opening their gates to the public for a day of fun and informative activities.
"It was fantastic to be able to participate in the Open Day where we could showcase our project to our local community and answer any questions visitors had about wind power," said Simon Williams, Operations and Maintenance Manager, Powerchina Australia.
"Feedback from attendees has been overwhelmingly positive, and the Cattle Hill Team should be recognised for hosting such a wonderful day – great work team," said Helen Kennedy, Community Engagement Manager, Goldwind Australia.
"We all enjoyed a marvelous day out and were astounded at the size of your investment in such a wonderful renewable energy project, it was fantastic to see up close. Your team on site were excellent and answered the many questions thrown at them with all honesty and with obvious great knowledge and pride,"  said Peter Shelley of Channel Men's Shed.
"Many thanks for the wonderful tour. We really enjoyed it. The actual site, tour preparation, information and yummy lunch served by the Bothwell Bunnies was really appreciated. I learned a great deal. Everyone was very welcoming and prepared to talk. It was very informative," said Susan Friend of Bothwell.
Cattle Hill Wind Farm Community Fund
CHWF was pleased to support five local community projects in the 2021 inaugural round of the community fund.
Round Two of the Community Fund will open for applications from eligible local groups in the Central Highlands LGA on Monday 15 August 2022. Learn more here.
CEC Innovation Award Winner 2021
Goldwind Australia are excited to be the recipient of this year's Innovation Award for IdentiFlight, a cutting-edge avian detection system at Cattle Hill Wind Farm.
Further details can be found here.