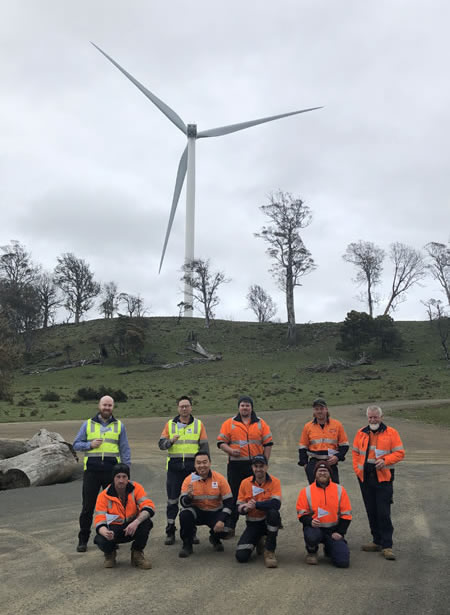 About the Wind Farm
Cattle Hill Wind Farm is located on the eastern shore of Lake Echo in the southern side of the Central Plateau of Tasmania and connects into TasNetwork's transmission network at the adjacent Waddamana Substation.
Construction was completed in 2020 with installation of 48 Goldwind GW140 3MW turbines, each standing at 170 metres in height.
The site is fully operating with a local team of 9 undertaking site management, operation and maintenance work.
The project output of 144MW is equivalent to the consumption of approximately 63,500 Tasmanian homes, increasing the State's renewable energy generation by approximately 5%, providing a significant contribution to the recent achievement of Tasmania's target of becoming fully self-sufficient with renewable energy by 2022.

We are delighted to be working with The Clean Energy Council on Clean Energy Open Day, Sunday 31st October 2021.
Cattle Hill Wind Farm is hosting a small scale event and will be open for free minibus tours. This Event is now fully booked. Please email [email protected] if you wish to be placed on a waiting list.
Please note: For safety reasons, no access to the wind farm is available unless booked on the minibus tour. No private vehicle or pedestrian access will be permitted.
CEC Innovation Award Winner 2021
Goldwind Australia are excited to be the recipient of this year's Innovation Award for IdentiFlight, a cutting-edge eagle detection and collision avoidance system at Cattle Hill Wind Farm.
Further details can be found here.
Cattle Hill wind farm Newsletter
The July 2021 edition of the Cattle Hill wind farm Newsletter is now available. Click here to read.
The newsletter will also be available in hard copy from various locations in Bothwell and Miena.
To request a hard copy please contact us.

Cattle Hill Wind Farm Community Fund
The inaugural round of the Community Fund will open on the 23rd August 2021.
Online Q&A Sessions will be held for interested community groups throughout August.
Further details are  available here and will be advertised locally.